The Campesino Monument is a sculpture by César Manrique dedicated to the farm workers of Lanzarote. Discover countryside life on the island at its museum!
Also known as the Monument to Fertility, the Campesino (Spanish for peasant or farmworker) Monument is one of the most emblematic sculptures on the island. The sculpture is 15 metres tall and was built in 1968 using water tanks from old sailing and fishing boats.
When you look closely at the sculpture, you begin to see a local campesino travelling on the back of a pack animal. It was created by César Manrique in honour of the rural workers who worked hard to bring Lanzarote's land back to life. 
Campesino House-Museum
Next to the monument is a model village, known as the Casa-Museo del Campesino or Campesino House-Museum. This old Canarian-style farmhouse, made up of typical white and green buildings around a peaceful courtyard, showcases the agriculture, architecture, handicrafts and cuisine of Lanzarote.
Walking through the museum, you'll find different workshops where local artisans work on ceramics, embroidery and weavings, offering visitors a journey to the past to learn about traditional life in Lanzarote.
Visiting the Campesino Monument
Thanks to its location at a crossroads in the centre of the island, it's almost impossible not to come across the Campesino Monument at some point during your trip, especially if you're exploring Lanzarote in a rental car. The tour of the House-Museum and monument takes around 50 minutes, and we recommend visiting in the morning when there's more activity in the artisan workshops.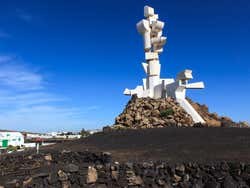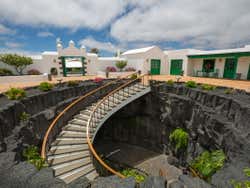 Schedule
Daily from 10 am to 6 pm.