José Saramago House Museum
The José Saramago House Museum invites you to immerse yourself in the magical world of the Nobel Prize winning Portuguese writer.
Born into a humble family with few resources, José Saramago was an avid reader from a young age, taking full advantage of the library, one of his favourite places. Through his reading, he would become a man with overflowing wisdom and a unique way of looking at life.
Visting the José Saramago House Museum
"A house made of books" is how José Saramago described the home where he spent the last 18 years of his life. From his library, packed full of works by thousands of different authors, to his study and living rooms, the writer's passion for literature is tangible. On the shelf in his office, you can see José Saramago's well-deserved Nobel Prize for Literature, which he won in 1998. 
Starting off working as a mechanic in his younger years and later working as a newspaper editor, Saramago didn't gain recognition as a writer until he was 60. His works often reflected his subversive perspective on historic events, which led to the censorship of his writing by the Portuguese government. In response, he went into exile in Lanzarote, saying of the island: "Lanzarote is not my homeland, but this land is my home".
Throughout the House Museum, visitors catch a glimpse of the writer's daily life and learn more about his works. Saramago's romantic side is revealed as you realise all the clocks in the house are stopped at 4 pm - the time when he met his partner Pilar del Río Sánchez. In the courtyard is another sentimental element: an olive tree that the author brought from Portugal in a tiny pot held between his legs on the flight over.
The tour of the house ends the cosy kitchen, where you can enjoy a Portuguese coffee while admiring views of the beautiful garden with the Atlantic Ocean in the background.
A must for fans of José Saramago
The José Saramago House Museum is a real place of pilgrimage for lovers of his writing and offers the perfect opportunity to learn more about the writer in the place where some of his best works were created.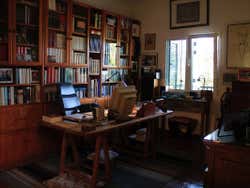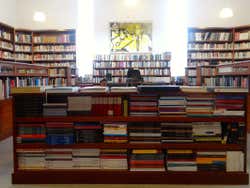 Schedule
Monday to Saturday: 10 am to 2:30 pm (last admission 1:30 pm).
Price
Adults: € 8 (US$ 8.60).
Children under 16 years old: free entry.