Museum of Contemporary Art
Located in the 18th century Castillo de San José, Lanzarote's Museum of Contemporary Art showcases a diverse range of works created by Spanish artists between the 1950s and 1980s.
Perched on a cliff overlooking the coast of Arrecife, the Castillo de San José is home to Lanzarote's Museum of Contemporary Art. Its defensive stone walls and the collection of contemporary art within come together in contrasting harmony.
History of the Castillo de San José
Built between 1776 and 1779 to protect the island from pirate attacks alongside the Castillo de San Gabriel just down the coast, construction of the castle was also a project to provide much-needed employment during a time of famine on Lanzarote. This earned it the popular nickname of "Fortress of Hunger".
Over time, Arrecife had less and less need for a defensive fortress, and the castle was finally abandoned for more than a century. As part of his work on the island, César Manrique transformed the historic building into a unique art museum which opened in 1976.
What to see at the Museum of Contemporary Art
The museum has two large vaulted rooms where the permanent collections are displayed, as well as several smaller spaces for temporary exhibitions and cultural activities.
Among the most well-known artists exhibited in the museum are Joan Miró, Antoni Tàpies and some Canarian artists such as César Manrique, Manolo Millares and Pancho Lasso.
The museum's restaurant is one of the most striking spaces in the Castillo de San José. Its large windows offer panoramic views of the coast, which visitors can admire while indulging in typical Canarian dishes and innovative culinary creations.
Modern art in historic surroundings
Lanzarote's Museum of Contemporary Art showcases different works of abstract art and modern sculpture, ideal for lovers of these artistic trends. If you're not into contemporary art, the most interesting part of the visit is exploring the castle and immersing yourself in the history of Lanzarote.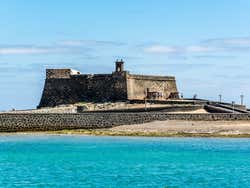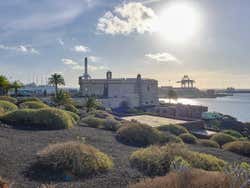 Schedule
Daily from 11 am to 6 pm.
Price
Adults: € 4 (US$ 4.30).
Children between 7 and 12 years old: € 2 (US$ 2.20).
Children under 7: free entry.