Cueva de los Verdes is a volcanic cave created by lava flows after the eruption of Monte Corona. An extraordinary natural landscape full of legends, there's no wonder it's a top tourist attraction in Lanzarote.
Cueva de los Verdes is part of the 6-kilometre-long volcanic tube that connects the Monte Corona Volcano with the Atlantic Ocean. It is a unique space showcasing the natural beauty of Lanzarote in its purest form.
History of Cueva de los Verdes
Formed several thousand years ago when Monte Corona erupted, Cueva de los Verdes has played an important role in Lanzarote's history. When the island was being colonised, the Indigenous Guanche people took refuge in the volcanic cave to avoid being sold into slavery by European and Amazigh invaders.
In the 19th century, the caves began to attract travellers and geologists interested in studying its formation to better understand the geography of Lanzarote.
Then, in the 1960s, the Cueva de los Verdes captured the attention of artists Jesús Soto and César Manrique. In true form, they transformed the volcanic tube into a work of art, playing with light and shadow to highlight the natural features sculpted by lava.
Visiting the Cueva de los Verdes
The 50-minute guided tour takes visitors deep into the bowels of the earth. You'll find yourself immersed in an extensive network of underground tunnels and cavernous galleries with lofty ceilings up to 50 metres in height.
Soto and Manrique's careful artistry illuminates the peculiar rock formations in Cueva de los Verdes and highlights their rainbow of colours. You'll be able to marvel at the reddish tones of the basalt rock caused by iron oxidisation and the different shades of ochre caused by light reflecting on salt deposits in the cave walls.
The route through the cave leads to an auditorium with spectacular natural acoustics. The unique concert hall plays host to numerous musical events every year.
A must see in Lanzarote
Lanzarote's Cueva de los Verdes offers a fascinating journey to the centre of the earth where history, art and nature meet.
Over the years it has become one of the most popular places to visit in Lanzarote and attracts many visitors every day. We recommend visiting between 3 and 4 pm to avoid the crowds. Cueva de los Verdes is located very close to the Jameos del Agua, so the two visits are easily combined - especially as you save money when booking both together!
Natural ventilation from air currents mean the temperature in the caves remains at around 19ºC throughout, making for a cool contrast from the warm weather outside!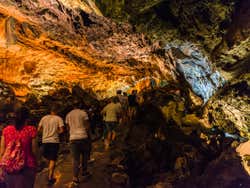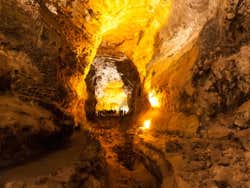 Schedule
Daily from 10 am to 4 pm (last guided tour).