Designed by César Manrique, the Jardín de Cactus - or Cactus Garden - in Lanzarote is a work of art in which architecture is intertwined with nature.
Located in an abandoned volcanic sand quarry in Guatiza, the Jardín de Cactus was César Manrique's last piece of work of its kind in Lanzarote. The artist turned his attention to the run-down space and created a spectacular natural work of art.
What to see in the Cactus Garden
The garden is home to over 400 different species of cactus from all over the world. Over 10,000 cacti, thriving in the desert landscapes, create a striking contrast of green tones against the blue sky and dark volcanic soil. Since the Jardín de Cactus opened in 1990, some of the cacti have grown up to an impressive 8 metres in height.
Reigning over Lanzarote's Cactus Garden is a 19th century windmill which offers unique panoramic views over the cacti. Just underneath, there's a snack bar where you can take a break in the shade and try an unusual delicacy: the cactus burger - don't worry, thorns are removed!
The most beautiful garden in Lanzarote
While visiting a garden on an island characterised by its lack of vegetation might not seem like a top priority, the Jardín de Cactus is sure to enchant you. Like all of Manrique's work, the space is an inspired fusion of architecture and nature, making the most of Lanzarote's volcanic desert geography and using local traditions to create a beautiful artistic complex.
How to get to the Cactus Garden
As with most places to see in Lanzarote, the best way to reach the Cactus Garden is by car. It is located in the northeast of the island, between the towns of Guatiza and Mala.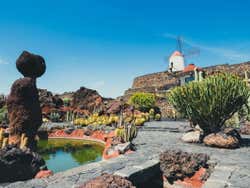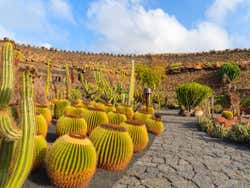 Schedule
Daily from 10 am to 5:45 pm (from 9 am in summer).