Lanzarote's Museo Atlántico is an impressive underwater museum where beginners and experts alike can enjoy scuba diving in a unique setting.
The Museo Atlántico in Playa Blanca is an underwater sculpture park designed by artist and scuba diver Jason deCaires Taylor. The sculptor previously worked on similar projects in the Caribbean, with his underwater museum off the coast of Grenada being named one of the 25 Wonders of the World by National Geographic. 
The Museo Atlántico is made up of ten different groups of sculptures, which, like the rest of deCaires Tailor's work, reflect on contemporary issues, the beauty of the ocean and the need to protect it.
What to see at the Museo Atlántico
The museum's ten installations take up about 2,500 square meters of seafloor located at a depth of around 15 metres. Their thought-provoking subjects include a sculpture of a group of children in boats for whom the future is uncertain; a reference to the refugee crisis in Europe, and a commentary on the use of technology in modern society, with a couple taking a selfie in front of a shipwreck.
One of the most striking sculptures in the park is the Human Whirlpool, a piece made up of 200 life-sized sculptures spread across each other in a chaotic circle that has become the makeshift home of local marine life.
Amongst the other features are a children's playground where men in suits play on the swings and the Rubicon, in which 35 human figures are trying to cross a wall through a door when they could go through any other point.
An impressive museum
While Lanzarote's Museo Atlántico is a true work of art in a magnificent ocean setting, due to its location under the sea, it's sadly not a visit for everyone. The underwater sculpture park offers tours for beginners, those who are out of practice, and certified divers.
If you have a diving qualification and want to experience this unique dive site off the coast of Lanzarote, you can book your trip via the following link: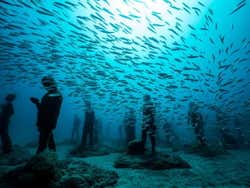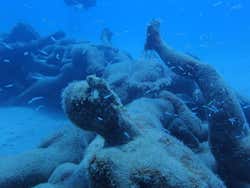 Schedule
Daily from 10 am to 4 pm.