César Manrique House Museum
Located in an old farmhouse converted in harmony with nature in true Manrique style, the César Manrique House Museum in Haría was the artist's peaceful final home.
What to see at the César Manrique House Museum
Popularly known as the Palm Grove House, the César Manrique House Museum pays homage to traditional Canarian architecture in perfect integratation with nature. The artist bought the run-down farmhouse in the 1970s, and converted it into a beautiful, comfortable home where he spent his final years.
Visitors are immersed in the life and works of César Manrique as they explore the different rooms of the house-museum. The tour includes the artist's bedroom, kitchen and other living spaces and his studio, preserved as he left it with tables laden with oils, drawings and unfinished paintings. 
A highly recommended visit
The César Manrique House Museum tells the story of its creator and his irrevocable link to the history and geography of Lanzarote, helping visitors fall in love with the island. The artist's home in Haría provides a contrast to his previous house in Tahíche, now the headquarters of the César Manrique Foundation, and the two visit complement each other perfectly.
If you don't have much time to spare in Lanzarote and have to choose between the two, we'd recommend visiting the César Manrique Foundation. However, if you're lucky enough to visit both, you'll enjoy a discount when buying the two entrance tickets together.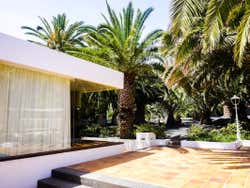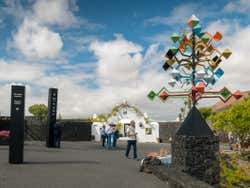 Schedule
Daily from 10:30 am to 6 pm.
Price
Adults: € 10 (US$ 10.60).
Children under 12 years old: € 1 (US$ 1.10).
Joint ticket with César Manrique Foundation: € 15 (US$ 15.90).