Located on an islet off the coast of Arrecife, the Castillo de San Gabriel is a historic castle built to defend the island from pirate attacks. Discover how and when to visit!
The Castillo de San Gabriel is located on a tiny island called Islote de los Ingleses (Islet of the English), that's connected to the coast of Arrecife by two causeways. If you're visiting on foot, you'll cross over Puente de las Bolas, an emblematic drawbridge whose pillars are crowned by two cannonballs.
History of the castle
Originally built as a small wooden fortress, the Castillo de San Gabriel proved insufficient to prevent attacks and had to be rebuilt after it was burnt down by Amazigh pirates. The subsequent stone castle was completed in the 16th century and become an important defensive post for the harbour.
The Castillo de San Gabriel was declared a National Historic Monument in 1972 and later came to house an ethnographic museum showcasing the origins of Lanzarote.
What to see at Castillo de San Gabriel
Inside the castle, you'll find thick stone walls divide small rooms whose displays narrate the history of Lanzarote. While only a small portion of the museum's 3,000 objects are on show, you'll discover the evolution of the island through the exhibitions of primitive utensils, ceramics, dioramas and numerous historical documents.
At the top of the castle is a terrace offering unparalleled views: on one side, you'll enjoy the best views of Arrecife, and on the other the Atlantic Ocean stretches as far as the eye can see.
Due to the small size of the castle, visitor numbers are limited at any one time. However, the visit is relatively quick, so even if you have to wait to enter, it shouldn't be for too long.
One of the most beautiful places in Arrecife
The interior of Castillo de San Gabriel isn't a must-see attraction in Lanzarote, however the area in which it is located is well worth a visit to stroll along the coastline and enjoy the atmosphere of Arrecife.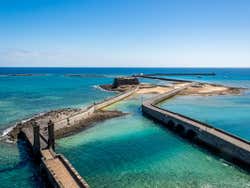 Schedule
Tuesday to Friday: 10 am to 1 pm and 4 pm to 7 pm.
Saturdays: 10 am to 1 pm.
Price
Entry: € 1.80 (US$ 1.90).