The LagOmar Museum, also known as Omar Sharif's House, is one of Lanzarote's most enchanting buildings: an architectural masterpiece inspired by nature.
Bringing together art and nature, LagOmar was born from a collaboration between César Manrique and  Jesús Soto and has become one of the most emblematic constructions in Lanzarote. The building and its museum go hand in hand with the artists' other masterpieces like Jameos del Agua, Mirador del Río and the Jardín de Cactus.
Urban legend or true story?
Thanks to Lanzarote's unparalleled natural beauty, it's been chosen as a filming location for numerous productions throughout history. During the 1970s, actor Omar Sharif visited to film "The Mysterious Island" and fell in love with the island and LagOmar, the space that would become his home.
Just two days after Omar had bought this spectacular property, Sam Benady, the developer who sold it to him, challenged the avid gambler to bet his new house on a card game. Benady had an ace up his sleeve though - he was also a champion bridge player and legend says that Sharif lost his dream house in the game!
What to see at the LagOmar Museum
The house is built in an old volcanic rock quarry and formed around its natural caves, tunnels, and terraces. Every detail of LagOmar is carefully thought out and inspired by Lanzarote's landscapes; its materials include lava and wood from shipwrecks found off the island's coast.
The museum tour allows visitors to explore the caves housing the kitchen, bedrooms, and other living spaces. In the garden, the beautiful lake surrounded by palm trees and lush vegetation is a true oasis in the desert landscapes.
These days, Omar Sharif's house is much more than a museum: at sunset, the building comes to life and fills with people as it becomes one of the most spectacular restaurants on Lanzarote.
An oasis in the heart of Lanzarote
Omar Sharif's House is emblematic of Lanzarote's art and culture and is a highly recommended visit on any trip to the island. It's home to a museum, a restaurant, and a trendy bar, so depending on what time you visit, you'll experience a very different version of LagOmar, although it always has a special charm.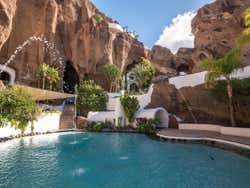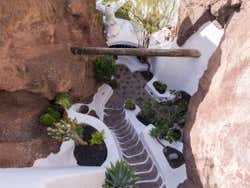 Schedule
Museum: daily from 10 am to 6 pm.
Restaurant: Tuesday to Sunday midday to 11:30 pm.
Bar: Tuesday to Sunday 6:30 pm to late.
Price
Museum entry: € 8 (US$ 8.70)